Chabad in the News
The Vienna Connection, April 2-8, 2014 
http://www.viennaconnection.com/news/2014/apr/01/hosting-community-passover/  
Hosting Community on Passover
March 21 reception recognized donation of 100-plus Haggadot from Mike Berger of Vienna.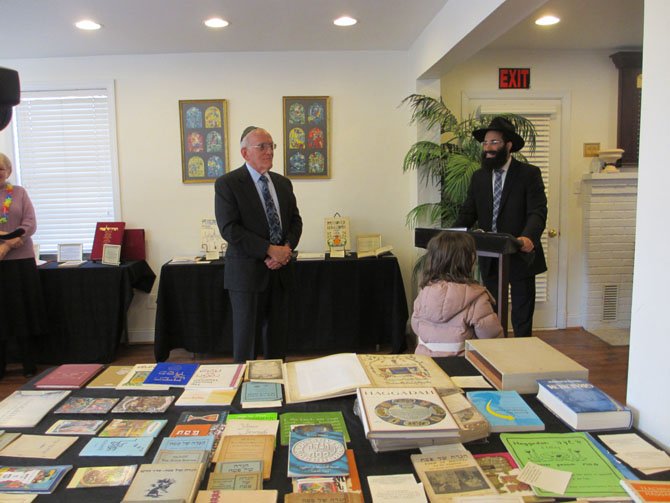 On March 21, Rabbi Chessy Deitsch of the Chabad Tysons Jewish Center thanked Vienna resident Mike Berger for his donation of more than 100 Haggadah to the center. The collection belonged to Berger's father. Photo by Donna Manz.
By Donna Manz
Passover Seder at Chabad Tysons Jewish Center Open to All
Passover or Pesach celebrates the deliverance of the Jewish people from slavery in Egypt. The sacred holiday begins sunset of Monday, April 14, and ends nightfall of Tuesday, April 22. The commemoration begins with the Passover ritual, the Seder, in which followers of the Jewish faith read from the family Haggadah, breaking for a traditional feast. At its core, the Haggadah narrates the story of the Exodus from Egypt.
On March 21, the Chabad Tysons Jewish Center, in Vienna, recognized a donation of more than 100 Haggadot [Jewish texts] from Mike Berger, a Vienna resident whose father collected the versions throughout his lifetime.
THE CHABAD TYSONS JEWISH CENTER is a close-knit community that welcomes newcomers as warmly as it welcomes old friends. And on Monday and Tuesday, April 14 and 15, the Chabad Tysons invites Jewish and non-Jewish neighbors to participate in the Passover Seder experience.
"Everyone is welcome," said Rabbi Chessy Deitsch. "The Chabad Seder is like family; it's home away from home." Rabbi Deitsch promised a warm environment, a "delicious" catered traditional Seder dinner, insights, singing, four cups of wine, and Matzah. "Whether you are a Seder veteran or a curious explorer, the Chabad Seder offers a stimulating and satisfying experience," Rabbi Deitsch said.
The Seder, which means "order" in Hebrew, follows a traditional protocol. The leader of the Seder leads the prayers and songs and the Haggadah is passed from guest to guest who recites passages. Sometimes, children act out a vignette.
The first known completed manuscript of the Haggadah was written in the 10th century. In 1482, with the introduction of the printing press, the first printed Haggadah was produced and is now housed in a Jerusalem library. The story of the emancipation of the Israelites is a story of plagues and of faith, of suppression and of freedom.
The eight-day festival of Passover is celebrated in the early spring, from the 15th through the 22nd day of the Hebrew month of Nissan. After more than 200 years of enslavement to the Egyptian pharaohs, God sent Moses to Pharaoh with a message, "send forth my people, so that they may serve me." When God visited the last of the plagues upon the Egyptians, he "passed over" the home of the children of Israel, sparing them. The Israelites fled, taking with them their unleavened bread. Matzah is central to the Seder dinner.
READING THE HAGGADAH at the Seder table fulfills the commandment to recount to new generations the story of the Israelites' Exodus from Egypt. For many local Jewish families, it's a living heritage.
"Judaism is both a religion and a culture," said Steve Hyatt of McLean. "The Chabad embraces the cultural side of the people."
Hyatt's family comes to the Chabad Tysons Jewish Center the first night of Passover. The second night is spent at the Hyatt home, a "more intimate" personal experience, said Hyatt. There's a lot of symbolism in the Haggadah, he said.
"The main thing of the Seder is that it shares the story of your people; you learn what your roots are," Hyatt said.
To RSVP to the Passover Seder or for more details, email [email protected] or call 703-821-7770. To learn more about Chabad Tysons Jewish Center, visit www.ChabadTysons.com.
Passover Seder at Chabad Tysons Jewish Center Open to All
First Seder Night, Monday, April 14, begins at 7:30 p.m.; second Seder night: Tuesday, April 16, begins at 8:30 p.m.
Chabad Tysons Jewish Center, 2107 Chain Bridge Road, Vienna, 22182 (corner of Chain Bridge Road and Horseshoe Drive). RSVP 703—821-7770. Hosted by Chabad Tysons Jewish Center, Rabbi Chessy Deitsch.
For more details, email rabbi@chabadtyson.... To learn more about Chabad Tysons Jewish Center, visitwww.ChabadTyson.com.
THE WASHINGTON POST, Sunday, May 27th, 2007 
http://www.washingtonpost.com/wp-dyn/content/article/2007/05/26/AR2007052600955_pf.html
The Offbeat Is Helping Some Jews Reconnect
Chabad Rabbis' Modern Outreach Methods Are Controversial but Forge Ties
By Jacqueline L. Salmon
Washington Post Staff Writer
Sunday, May 27, 2007; C01
With ice cream sundaes, iPod giveaways, spa days and yoga classes, a group of Orthodox rabbis in the Washington area is employing decidedly unorthodox methods to address a growing problem: the fading involvement of Jews in local Jewish life.
Although the region has one of the largest and youngest Jewish communities in the country, recent studies have found that a shrinking proportion of Jews— as elsewhere in the country — is joining synagogues, community centers, Jewish schools and other centers of Jewish life.
However, Chabad-Lubavitch, a controversial 250-year-old branch of Judaism with mystic roots, has significantly increased its presence in the area in the past five years. During that time, five gathering places — called Chabad Houses — have opened: two in Northern Virginia, two in northern Montgomery County and one in Annapolis. Rabbi Shmuel Kaplan, regional director of Chabad-Lubavitch of Maryland, said the movement expects further expansion.
"People ask me who our target audience is," he said. "It's every single Jew in metropolitan Washington."
With their black hats, thick beards and long, black coats, male "Chabadniks" look like throwbacks to Old Europe. They are part of the movement called Hasidism, whose members — men and women — ordinarily live apart from mainstream society to shelter their beliefs and practice.
Not the followers of Chabad (pronounced similarly to 'kah-BAHD'). The Brooklyn-based group emphasizes outreach to practicing and non-practicing Jews.
But the group has also engendered deep resentment from many mainstream Jews, who regard them as hovering on the far fringes of the faith.
Although Chabad-Lubavitch practitioners do not seek to convert non-Jews, mainstream Jews regard their outreach as evangelizing, a practice frowned upon. Critics also dismiss Chabad's outreach as superficial and say its leaders are too quick to claim success.
"They're offering a motel Judaism, not a home Judaism," said Jacob Neusner, a professor and senior fellow at Bard College's Institute of Advanced Theology in New York. "They rely on intense experiences which last for a little bit of time and don't really have a permanent effect."
Another source of controversy, inside and outside the movement, has been the belief on the part of some followers of Chabad that a revered leader, Rabbi Menachem M. Schneerson, who died in 1994, will return as the Messiah.
Despite the strife, Chabad is one of the fastest-growing major movements of Judaism, said Jonathan Sarna, professor of American Jewish history at Brandeis University. In the past decade, the number of Chabad's emissaries has doubled worldwide to 4,000 rabbis and their families, said Rabbi Zalman Shmotkin, a national Chabad spokesman.
In the Washington area, where Chabad has operated since the 1970s, there are 13 Chabad Houses, offering a mix of New and Old World programs to draw in Jews who are not affiliated with synagogues. Chabad Houses — which are funded by donations, not membership dues — schedule worship services, religious classes for adults and children and holiday celebrations.
The Chabad Center of Potomac holds a periodic "spa for the soul" day for women featuring pedicures, cooking lessons and Torah study. The Chabad of Anne Arundel County runs a kosher delivery service — http://www.kosherkaptain.com-- for the growing Jewish community there. In December, the Chabad House in Tysons Corner hosted a "Hannukah Wonderland" party in an office building, which attracted 2,500.
Last fall at Chabad of Silver Spring, Rabbi Berel Wolvovsky offered a free iPod to any child who attended his new Sunday morning Hebrew classes. This month, Wolvovsky presented eight children with their iPods.
"We could have given a discount to the parents for the tuition," Wolvovsky said. But, he added, "our objective was that the kid should be excited about school."
As in other Jewish communities in the country, local leaders are concerned lagging enthusiasm for social and religious organizations.
A 2003 survey found that although 90 percent of Washington area Jews reported engaging in individual religious practices — observing Passover and lighting Sabbath candles, for example — measures of participation in communal Jewish life are alarmingly low.
Just over a third of local Jewish households said they belonged to a synagogue— well below the average for 50 other Jewish communities nationwide, according to the 2003 survey, commissioned by the Charles I. & Mary Kaplan Family Foundation.
Enrollment in Jewish preschools and day schools was also well below average in the Washington area compared with other similarly sized Jewish communities. And a relatively high proportion — 41 percent — of marriages among Jews were found to be interfaith. Even more worrying to Jewish leaders was the finding that just one-half of area Jews said they felt a part of the local Jewish community.
Misha Galperin, chief executive of the Jewish Federation of Greater Washington, calls that a crisis.
"Unless we figure out how to handle it," said Galperin, "the sense of us being a community of people who are connected to each other, to a set of values, is very much threatened."
A 2004 study by the Jewish Outreach Institute laid the blame for the low participation at least partly on local Jewish organizations' outreach, particularly to singles and families consisting of both Jewish and non-Jewish faiths.
Costs of memberships at synagogues and community centers are often high, it said. And some newcomers have been met with "apathy or boredom, or worse, rudeness or even hostility."
To combat the problem, the Jewish Federation launched a multimillion-dollar effort last year to boost the proportion of Jews who say they feel a part of the local Jewish community to two-thirds within the next decade. Among its efforts: sponsoring festivals of Jewish culture, subsidizing synagogue memberships and encouraging Jewish groups to establish a presence at non-Jewish venues, such as street fairs.
Chabad "has been a very good teacher for us," Galperin said. "They have been focused on outreach for a long time, and they've done things I think really are admirable and work very well.'
Rabbi Levi Deitsch and his wife, Miriam, set up a Chabad group in Tysons Corner in 2002, at first working out of their apartment and renting space for larger events, such as their Hannukah party.
Last year, they rented a brick rambler on a busy corner of Route 123, a major commuter thoroughfare into Tysons, where they offer classes and services six days a week. They store the Torah in a small cherry hutch that serves as the Ark and serve coffee and cake in the kitchen after services and classes. They attract several dozen each week to religious services and packed in 70 people for last month's Passover Seder.
Recently, two dozen people settled into the small living room for a weekly class on Jewish history, taught by Deitsch.
It is one of several classes offered by Chabad's adult educational arm, the Jewish Learning Institute, which designs the curriculum and sends out PowerPoint templates to its rabbis.
Stocky and cheerful, Deitsch, 33, wielded a laser pointer at the screen as he moved briskly through his presentation on anti-Semitism in Medieval Europe.
Like many Orthodox Jews, he refrains from physical contact — such as shaking hands — with women not related to him, and he shuts down his ever-present Palm Pilot as part of his observance of the Sabbath, which runs from sundown Friday until sundown Saturday.
But his approach in other areas is more relaxed. He conforms with the Orthodox practice of separating the sexes during religious services, so he plops down plastic potted plants on tables in the middle of the room to create a partition. He doesn't want to scare anyone away.
"Judaism is made for everybody, and everybody is entitled to it," he said. "Just because they weren't brought up in a temple doesn't mean they can't participate."
***********************************************


A Chanukah Wonderland
TYSONS CORNER, N. VIRGINIA — Monday, December 22, 2003
yson's Corner in Northern Virginia is one of the premier upscale shopping centers in the United States. Home to Neiman Marcus and Saks, Bloomingdales and Bennetton, it is now also home to the Chabad Lubavitch Chanukah Wonderland.
Rabbi Levi Deitsch and his staff of volunteers have created a virtual Chanukah experience for children, teens and adults that will attract more than 2,000 during the twelve day event. The wonderland, a joint project of Chabad-Lubavitch of Northern Virginia, Chabad @ Tysons, and Chabad of Alexandria, has something for everyone and everything for Chanukah.
A life-size Judah Maccabee welcomes visitors to the Dreidel House. You enter a dimly lit room with a wall to wall painted backdrop of the Chanukah story. As you walk around the exhibit, a cd tells the story of the Maccabbees and the miracles, the heroes and heroines and the little cruse of oil that was found to rededicate the Temple.
The centerpiece of the wonderland is the olive press project, the unique learning tool developed by Chabad Lubavitch several years ago and brought to schools and classrooms around the world. In this interactive, hands-on exhibit, participants learn how olive oil was extracted during the Temple period.
Raw olives, shipped in from California, are pitted and then put through a massive presser, which is hand-cranked. The children love to help crank and watch as the olive juice pours out. The juice and pulp are then put into a centrifuge and within minutes produces pure, virgin olive oil which is then used to light the menorah and will burn for up to five hours.
Continuous Chanukah sights, sounds and smells entice the visitor to come back again and again. You can design and send a Chanukah card to an Israeli soldier in front of the painted Western Wall, bake and eat edible menorahs, decorate a wooden dreidel, make a Chanukah suncatcher, or watch Chanukah videos and live menorah lightings around the world. Play the giant table-top board game and print out the menorah blessings in the computer center. Leave your toddler in the 'color me Chanukah' supervised playroom and join other parents for coffee and doughnuts. Wander over to the entertainment of the day - magic shows, puppets, Jewish music. You can even help build a six foot menorah from Legos.
All of these activities and much more are absolutely free. Rabbi Deitsch wants people to feel comfortable and to come more than once. "We're not selling anything, we're only offering a fun, safe, Jewish environment" he said. "One kid came up to me and asked why we're not open all year round so they can come after school and hang out with Jewish 'stuff'.
One of the first families to come through on opening day was a local rabbi with his three small children. He told Deitsch that the reason they were there was because of a conversation he had overhead between his daughter and her friends. She told them that she wanted to go to the mall to see Santa. "This rabbi had never attended a Chabad event before" said Deitsch, "but he was determined to find a Jewish alternative for his little girl."
Reported by Fay Kranz Greene


************************** 
Jewish Congregation Forms in Tysons
Chabad at Tysons aims to reach out to the unaffiliated.
By Joanna Franco
September 10, 2003
Services
Chabad at Tysons holds weekly Shabbat services at 9:30 a.m., Saturdays, at the Embassy Suites Hotel, 8517 Leesburg Pike, Vienna.
Rosh Hashanah will be observed on Friday, Sept. 26 at 7 p.m., with morning services on Saturday, Sept 27 and Sunday, Sept. 28 at 9:30 a.m.
Yom Kippur services will be on Sunday, Oct. 5 at 6:15 p.m., Monday, Oct. 6 at 90:30 a.m., 11:00 a.m. and 6:30 p.m.
For more information, call 703-356-3451, or e-mail [email protected].




Contributed
Women affiliated with Chabad at Tysons learn how to make challah, a kind of bread.



Contributed
Rabbi Levi Deitsch, his wife Miriam and their daughter Chaya.

As Armin Khanzadeh grew older, he felt that the search for life's meaning grew more urgent. Describing his religious upbringing as "jumbled," the Reston resident hadn't gone to Jewish prayer services regularly. He held agnostic beliefs at one point, and taught in a Jewish Reform school at another point in life.
Yet he began attending services at a new Chabad Lubavitch institution in Tysons several months ago, after hearing about the group from his father, who attends a Chabad synagogue.
"By the time you get to your thirties, it becomes more of an issue of fulfilling that part of the curiosity," Khanzadeh said. Chabad at Tysons "has worked out great for me."
The rabbi of the new congregation, Levi Deitsch, said he hopes his congregation will fulfill the spiritual needs of area Jews who don't belong to a synagogue.
"Everybody's welcome, regardless of affiliation, background. You don't have to pay to pray," Levi Deitsch said.

AS MANY AREA people of the Jewish faith prepare to observe the High Holidays of Rosh Hashanah, Sept. 26, and Yom Kippur, Oct. 6, those who aren't part of a local synagogue can observe the holidays with Chabad at Tysons, which holds weekly Saturday services at the Embassy Suites Hotel in Tysons Corner.
"We want to teach Judaism and through that, make the world a better place," Levi Deitsch said.
Started up by Levi Deitsch and his wife Miriam last September, Chabad at Tysons seeks to reach out to Jewish people who are unaffiliated with the faith.
"It attracts people who don't have places to go," said Miriam Deitsch.
The Deitsches moved to McLean from Brooklyn last May 2002, after his cousin, Sholom Deitsch, spoke of the need for a congregation that would serve the Vienna, McLean and Great Falls areas. Sholom Deitsch is rabbi at the Congregation Ahavat Israel in Fairfax.
The Deitsches came last May and immediately began organizing. The couple started a women's class in July of last year, and ran out of the 50 prayer books they had brought with them from Brooklyn. They held women's and men's groups in their McLean apartment. High Holiday services kicked-off the weekly services.
Activities have expanded to include lectures, a crash course in Hebrew, children's programming, and one-time events like how to bake challah, a kind of bread.
"We try to cater to every aspect of life," Levi Deitsch said.
Their approach of reaching out to Jewish people of all walks of life attracted Bob Berman of Vienna. Berman, who found out about Chabad at Tysons through a Washington Jewish Week article, had been attending services in Springfield. But he liked how Chabad at Tysons used English and Hebrew in the services.
"It certainly is more convenient. It's more than the location," said Berman. The rabbi "has a very warm and open way about him. An excellent teacher, and a good spiritual leader."
Berman took his son to a service. His son, who had been to all Hebrew services before, also liked the English explanations of the history and traditions.
"It's been very, very positive. The services on Saturdays are especially good. It helps me do what I need to do to get a spiritual frame of mind," continued Berman.

WHILE BERMAN LIKES the accessibility of the services, Heather Glick of McLean enjoys the community aspect of the congregation. Glick, who attends Chabad at Tysons with her husband and their two children, didn't come from a traditional Jewish background but was involved in several Jewish organizations in the area. She said Chabad at Tysons is good for people who don't have a synagogue to go to for the High Holidays.
"Anybody can come. And that makes a difference," Glick said.
Glick also said her husband had been unsure of joining because he feared he would have to adopt some Orthodox customs, but he was assured by Rabbi Deitsch, who told him that he wanted to infuse people with a new understanding of Judaism than the one that many had been taught growing up.
"It's something that people struggle with. They're Jewish, but what does that mean exactly?" Glick said.
As Chabad at Tysons approaches its second year, the couple hopes to look for a permanent home, as well as establish a Hebrew school.
"There's a need for it," said Levi Deitsch. "There's really a need, the community has a lot of children."

~~~~~~~~~~~~~~~~~~~~~~~~~~~~~~~~~~~~~~~~~~~~~~~~~~~~

Washington Jewish Week
July 25 2002.
Chabad@Tysons Lubavitch continues Va. growth
by Julia Kay
WJW Intern
Virginia has more than a half-dozen Chabad Lubavitch institutions in places such as Alexandria, Fairfax, Virginia Beach and Richmond. Now, there is one more, with a name fitting the Chabad's location in Virginia's technology corridor: Chabad@Tysons.
The new Chabad, directed by Rabbi Levi Deitsch and his wife, Miriam, serves Vienna, McLean and Great Falls. The Chabad became active in late May when the couple moved to Tysons and is continuing to grow.
"I'm very excited about it. I'm very impressed with the reaction we've had so far," said the rabbi, who has traveled widely. "There's a certain thirst for Judaism in this area that's unusual."
So far, the Deitsches have been busy meeting members of the Jewish community through hosting Shabbat dinners at their apartment and answering numerous phone inquiries. This week, the expansion into programming begins as Miriam Deitsch starts a woman's Torah study group. There are plans in the works for a Mommy and Me play group and the Chabad has booked the Holiday Inn at Tysons for High Holiday services. A weekly minyan will begin following the High Holy Days.
A long-term goal for the Chabad is either to build or purchase its own building. Until then, activities will be conducted at the Deitsch apartment or in members' homes. Holiday awareness programs, lecture series, hospital and old-age home visitations, a lending library and regular Shabbat services also are planned.
Recent rapid growth in the Jewish population in the Tysons area and demand for a Chabad in that area led Rabbi Sholom Deitsch, regional director of Chabad of Northern Virginia, to invite Levi, a cousin, and Miriam, to come to the area.
On a Shabbat in July of last summer, he broached the subject. "We were discussing how we wanted to open a Chabad," said Miriam Deitsch. "We spoke to families, and they gave us a very positive response."
That response convinced the couple to move from New York to open Chabad@Tysons. "There's nothing like going to a place where you know you're welcome," she said.
Chabad boasts nearly 4,500 institutions worldwide, including centers in Israel, Africa, Australia, the Far East and the former Soviet Union. The group is headquartered in Brooklyn, N.Y., where its leader, Rabbi Menachem Schneerson, lived until his death in 1994. Schneerson encouraged his followers to engage in outreach activities, assisting fellow Jews in both their material and spiritual needs.
Rabbi Levi Deitsch has done extensive work in Jewish education and has conducted Jewish outreach activities in Bangkok, Thailand; Las Vegas; Italy; Brazil; and the New York area.
Miriam Deitsch has taught Jewish literature for several years in Australia and the United States. She has also led Jewish awareness programs in Moscow and California.
Both come from Chabad families — his in Brooklyn, N.Y., hers in Melbourne, Australia — and, as luck would have it, met in Los Angeles while she was working at a Brentwood Chabad. The young couple has a 3-month-old daughter, Chaya.
With members like Robin Silverman, the Chabad@Tysons seems to be a success. Unaffiliated and not very religious for most of her life, she wanted a spiritual community and began to spend time at the Chabad in Fairfax last spring. When Chabad@Tysons opened, she began to spend time there as well. She feels she's had a very positive experience. "It's making me fall in love with Judaism," she said. "I'm just thrilled with their coming here."
Silverman and her family have participated in Shabbat dinners with Chabad and recently posted a mezuzah with the rabbi's help. She seems amazed at the relationship her family has developed with the Deitsches. "I feel like they're becoming our friends," she said.
Chabad@Tysons' goals are to create a cohesive and warm Jewish community that is committed to outreach. "Their purpose here is about Jewish awareness and education and filling a void that Jewish individuals or families may have," said Miriam Walls, public relations director for the Chabad.
She's enthusiastic about Rabbi Levi and Miriam Deitsch. "They're absolutely a wonderful couple. I think they'll make a great team."
One of the core tenets of Miriam Deitsch's Chabad philosophy is acceptance without judgment. "We accept everyone with open arms," she said.
The Chabad@Tysons can be reached at 703-356-3451 and 703-622-2953, or by e-mail, [email protected].
This story was published on Thu, Jul 25, 2002.